Festivals in the Canary Islands
The Pilgrimages are the quintessential holiday in the Canary Islands. The Pilgrimages Canary are the festivities with an origin linked to saints of the Catholic religion. In its origins were simple walking pilgrimages, on livestock or wagons. They consisted of displacement of people going from the remote corners where they lived, to the different peoples of the island to participate in the festivities that were held there.
Traveling on dirt roads, the intention of the pilgrims was to fulfill a promise, religious precept, go to the chapel, parish or church to venerate the saint or virgin in your area.
They took advantage of these opportunities to have fun and socialize. When hiking group could be, fun and revelry, to the sound of timples, guitars and chácaras gave a tone of joy to a society that lived mostly hard work, mostly in the field, throughout the year.
Now, Pilgrimages are huge street parties where joins the popular and religious, between the party, tradition, history and culture.
Highlights this holiday the great influx of people of all ages, the huge cows or oxen pulling beautiful wooden carts, ridges and folk dances Popular pace with parrandas.
One of the most legendary traditions of the Pilgrimages is to drink wines accompanied by goat meat or beef, even in some samples are grouped indigenous sports like cattle drive, jump stick or grass, to promote cultural attachment to the field work.
In all this tradition, we add the fairs or exhibitions of local handicrafts, where the most colorful is certainly the costumes or Wizard suits each rosemary saw on this special day.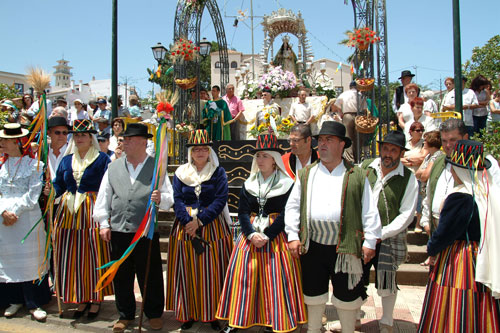 Without a doubt, Pilgrimages are the most important holidays in the Canary Islands, considering that each town and municipality perform an annual, activities accompanied by programs that usually last between one and two weeks, making these festivals, both locals and visitors who want to know more of this fantastic tradition, an unforgettable experience.
If you come to visit the islands, please find out in which area of ​​the island will be a Pilgrimage and go, prove their local wine and enjoy your gastronomy.